Grandmother's Garden
unfinished top, maker unknown
Life is so perfectly illustrated in textiles. It takes thread, fabric, hard work, imagination, and the desire to create something when making a quilt. We are inspired by quilts made in the past and present. The lives of those who created the quilt are shown in their choice of color and fabric. Without the collective stitches we would not have a quilt.
Our life is impacted by the collection of many experiences. They may be experiences of our own or the influence of other people in our lives. Collected like a patchwork quilt to create one interesting, purpose-filled life.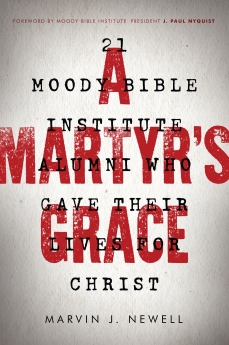 "Have you grace to be a martyr?" D.L. Moody was once asked. "No," he replied, "I have not. But if God wanted me to be one, he would give me a martyr's grace." So begins author Marvin J. Newell in the forward of his book, "A Martyr's Grace: 21 Moody Bible Institute Alumni Who Gave Their Lives For Christ. I find that my personal faith is boosted when I read of other's experiences in their faith journey and as difficult as it was to read some of these stories, I found the need to take my own faith out and examine it.
As I read this book I was impressed with the passion each person felt in their call to go spread the gospel around the world. Each person willingly gave their all to share the faith that they had in Jesus Christ. Reading this book has given me pause to stop and reflect on my own passions. What am I giving my passion to? Is it something worth dying for? Is it worth anything for eternity?
The author has done a thorough job of researching each missionary, sometimes with little to go on. He did not try to glorify the lives of the 21 men and women but told their stories just as he found them. Human flaws and all. The exciting thing is how each person's story, told in "A Martyr's Grace" not only impacted the people they were with at the time, but it continues to impact people today.
Just like quilts are purposeful for the immediate now, they continue to comfort, inspire, and provide warmth to people in the future. Who are you impacting today and for what purpose?
*This book was given to me by Moody Publishers in return for an honest opinion, entirely my own.